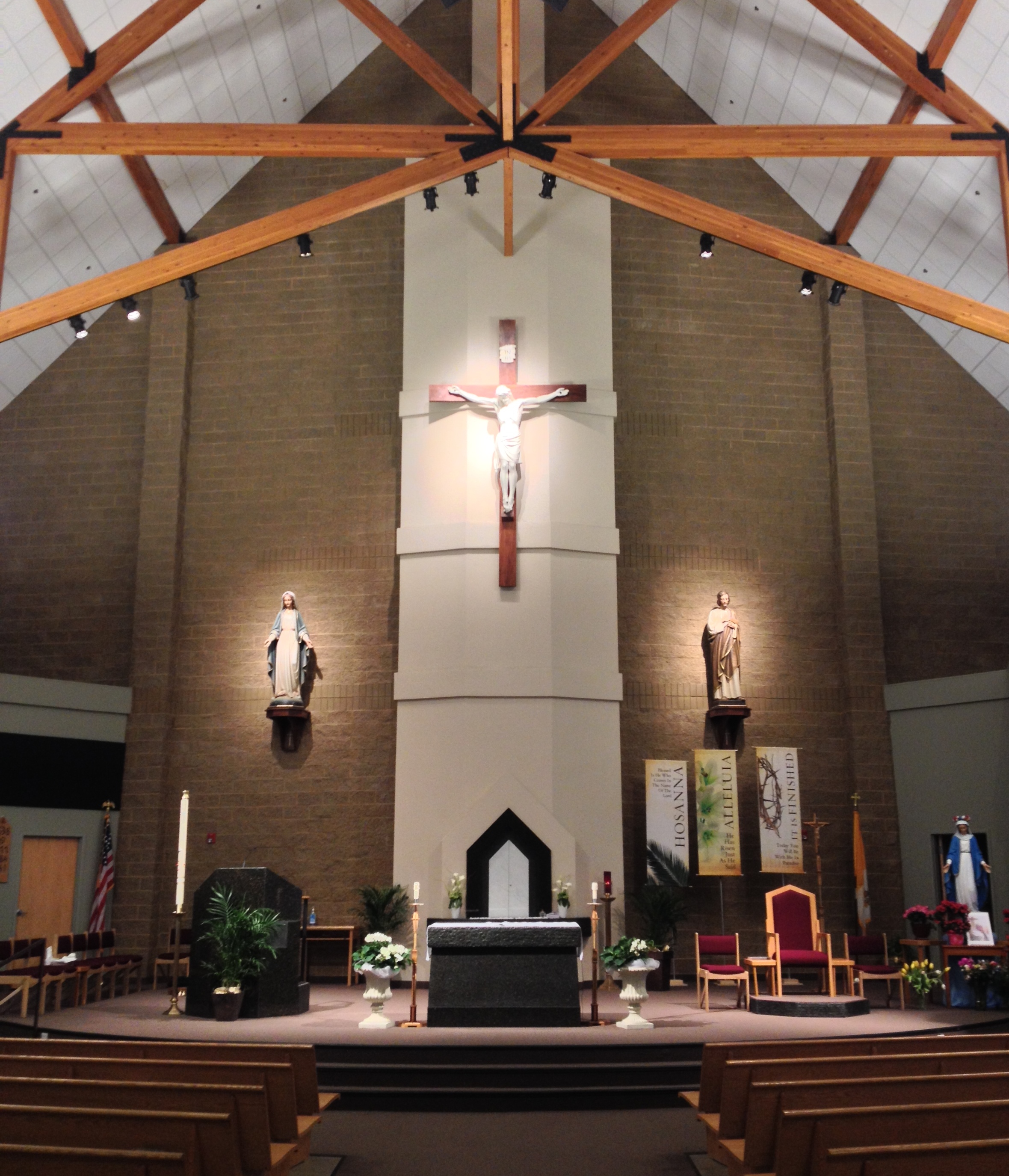 LIVESTREAM VIGIL MASS
English – Saturdays 5:30 PM
Spanish – Saturdays 7:00 PM
Watch Live on Facebook or View Later on our YouTube Channel.
Holy week schedule
Paschal Triduum

Holy Thursday, April 1
No 6:30 am & 8:30 am Masses
5:30 pm Mass (English)
7:00 pm Misa (Spanish)
Good Friday, April 2
No 6:30 am & 8:30 am Masses
3:00 pm Divine Mercy (BC)
3:00 pm Divina Misericordia (SC)
3:45 pm Stations of the Cross (BC)
3:45 pm Via Crucis (SC)
5:30 pm Lord's Passion and Veneration of the Cross
7:00 pm Pasion del Señor y Veneracon de la Cruz
Holy Saturday, April 3
No 8:30 am Mass
No Confessions
1:00 pm Blessing of Easter Baskets
8:00 pm Easter Vigil
11:00 pm Vigilia Pascual
Easter Sunday, April 4
9:00, 11:00 am and 5:30 pm (English)
1:00, and 7:00 pm (Spanish)
All liturgies in the Big Church.
SC = Small Church; BC = Big Church
SUNDAY MASS: TIMES AND REGISTRATION
SATURDAY Vigil Mass:
5:30 PM and 7:00 PM
SUNDAY
9:00 AM – English
11:00 AM – English
1:00 PM – Spanish
5:30 PM – English
7:00 PM – Spanish
Here's to register in 3 easy steps:
1) Click the following links to see our mass sign up.
English Mass Sign Up
Spanish Mass Sign Up
2) Review the options listed and choose the spot(s) you like.
3) Sign up! It's Easy – you will NOT need to register an account.
We ask you to pre-register online to ensure a speedy check-in process.
Additionally, if you find you will not be able to attend, please go online and cancel your slot. Thank you.
Note: If you are unable to sign-up online, please contact the parish office 509.586.3820.
DAILY MASS: TIMES
Below are our normal daily Mass times. Please note there may be occasional variations or sudden changes in schedules. The above link is updated weekly.
Daily Mass is offered:
6:30 AM Monday thru Friday
8:30 AM Monday thru Saturday
There is no online registration.